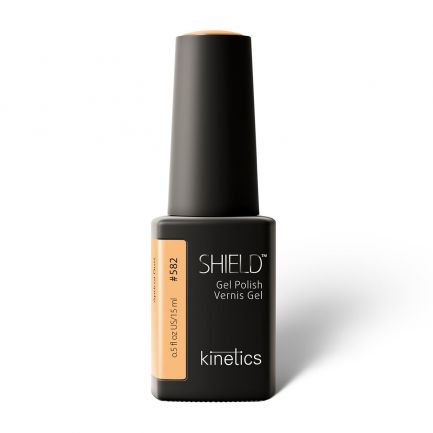 #582 APRICOT DUST
DESCRIPTION
Light peach
Become your own playful self with this lively light peach shade that will add a warm accent to the upcoming darker days. A restorative shade that reflects positivity, energy and well-being. Grasp the encouragement it delivers!
INSPIRATION
Twilight Sky
Mai Tai cocktail
Romantic poetry
SHIELD PROFESSIONAL GEL POLISH 0.5 fl oz/15 ml
Shield gel polish is a classic 3-step highly pigmented professional formula with a wide color range. It cures in both UV and LED lamps. All Shield colors are available also in SolarGel Professional Nail Polish formula. SHIELD gel polish is made in HEMA-free formula.
HEMA is a monomer that can generate unwanted skin reactions, like itching, peeling and redness. We improved the formula, by replacing this ingredient with a different one, that has a larger molecule size and can not penetrate the skin, so can provide a safer manicure. With SHIELD Gel polish offer your customers a safer manicure, with decreased risk of unwanted skin reactions