Terms and conditions of site use >
TERMS AND CONDITIONS OF SITE USE
TERMS AND CONDITIONS
Welcome to kineticsbeauty.com
Please read these conditions carefully before using our services. By using our services, you signify your agreement to be bound by these conditions.
1. GENERAL AGREEMENT
SIA "Kinetics Nail Systems", registration No 40103297500, address: Kurzemes prospekts 3K, Rīga, LV-1067, Latvia, hereinafter – KINETICS, ensures the contents available on the website www.kineticsbeauty.com, hereinafter –` Website, and provides services in accordance with the terms and conditions outlined below, delivery policy, returns policy, other terms and conditions, as well as the operational policy, description of which is posted on the Website with regard of certain functionality, features or promotions as well as customer service, all of which deemed to be part of and included within these terms and conditions (hereinafter collectively referred to as the Terms and Conditions). By authenticating to the ONLINE STORE section of the Website, you acknowledge that you have read, understood and agree, without limitation or qualification, to be bound by these Terms and Conditions.
Where the consumer purchases Goods offered on KINETICS Website for sale, via the Internet, such mutual agreement shall be deemed to be a Distance agreement and is subject to the provisions of the law of the Republic of Latvia governing the Distance agreement, including but not limited to the Republic of Latvia Act "Consumer Rights Protection Act", Republic of Latvia Cabinet of Ministers Regulation "Regulation regarding the Distance Agreement".
If the customer who has ordered or purchased Goods on the Website lacks legal capacity or capacity to act, the legal representative of such person (e.g. parents, guardians) shall be liable for ordering and payment for the products. The order is irrevocable in the foregoing situation, as well as the purchase price paid is not refundable.
The Distances agreement for purchase of the Goods shall be deemed to be concluded as of the time of payment for the Goods.
2. PURPOSE OF THE SITE
This site is created and maintained by KINETICS and its distribution partners. Site is built to work efficiently as a business to customer communication platform, online sales platform for brand products as well as information source for all product and company related information.
3. PRIVACY
KINETICS protects fundamental rights and freedoms of natural persons, especially the right to inviolability of private life, with regard to the processing of data of a natural person in accordance with the Regulation (EU) 2016/679 of the European Parliament and of the Council of 27 April 2016 on the protection of natural persons with regard to the processing of personal data and on the free movement of such data, and repealing Directive 95/46/EC.
KINETICS processes your personal data by various means for several purposes, depending on whether you are a registered user, unregistered user or you have applied for receipt of newsletters. The information concerning the use of your personal data is available in the Privacy Policy. The information concerning the use of cookies is available in the Cookie Notice.
KINETICS contact information:
Kinetics Nail Systems, SIA, Kurzemes prospekts 3K, Rīga, Latvia, LV-1067, email: [email protected]
3.1. REGISTERED USER
Upon registering in the Website and creating your own customer account, your account is used as a communication channel for concluding the Distance agreement. The information concerning the use of your personal data is available in the Privacy Policy
Upon creating the Account, you confirm that you are informed that the data you insert is being processed to create and maintain the Account, including, to create and retain your wish list and purchase history, and send you information related to the performance of the Distance agreement, such as information about performance of the order, updates to the order. KINETICS, before sending the order, may request PRO customers to send a photo of the manicurist's diploma, thus certifying that the information provided in the registration form is true.
Upon leaving a review about the Goods, your name, the assessment given to the Goods, and the review is published on the Website. If you have created the Account using the option to register via Facebook, your picture of a diminished size appears with the review. The reviews posted on the Website are deleted only if the specific product is not on offer anymore.
If necessary, KINETICS may contact you on the phone or electronically in order to resolve any issues related to the service or product, for which you have left the review.
3.2. UNREGISTERED USER
For the purpose of concluding the Distance agreement KINETICS needs to obtain and process the personal data specified in the order placement form. If you fail to provide your personal data, you will not be able to conclude the Distance agreement. The information concerning the use of your personal data is available in the Privacy Policy
4. PRODUCTS AND SERVICES FOR PERSONAL USE
The products and services available on the Site, and any samples thereof we may provide to you, are for personal use only. You may not sell or resell any of the services or samples thereof, you receive from us. KINETICS reserves the right, with or without notice, to cancel or reduce the quantity of any order to be filled or products or services to be provided to you that we believe, in our sole discretion, may result in the violation of our Terms and Conditions.
5. ACCURACY OF INFORMATION
We attempt to be as accurate as possible when describing our products on the Site. If the product related information (description, colors, etc.) has changed, KINETICS cannot guarantee that at any given moment data posted on the webpage contains all the latest updates.
6. INTELLECTUAL PROPERTY
All information and content available on the Site, including but not limited to trademarks, logos, service marks, text, graphics, logos, button icons, images, audio clips, data compilations and software, and the compilation and organization thereof (collectively, the "Content") is the property of KINETICS, our affiliates, partners or licensors, and is protected by the Republic of Latvia laws and other international laws governing intellectual property protection, including laws governing copyrights and trademarks. Our trademarks may not be used in any manner for any purpose without our express written consent.
7. GOODS
The Goods sold by KINETICS are not food products and cannot be used as food. KINETICS has taken the steps required to ensure that the cosmetics sold by it, hereinafter referred to as Goods, cannot be mistaken in their design, and in particular in their form, scent, color, appearance, packing, labelling, volume or size, for a food product and does not pose a risk to consumer health and safety.
KINETICS does not permit the use of misleading statements about the effectiveness of Goods and other properties of cosmetics in regard to consumers and observes the principles of good manufacturing practice in the production of cosmetics.
KINETICS's Goods is professional, friendly, safe for human life and health and complies with the provisions of the Goods and Services Safety Law of the Republic of Latvia as well as with international regulations, including Directive No. 2001/95/EEC of the European Council on general safety of products, Directive No. 87/357/EEC of the European Council on the approximation of the laws of the Member States concerning products which, appearing to be other than they are, endanger the health or safety of consumers.
To find out more about the variety of Goods, their characteristics and prices, special offers and their duration click here.
8. PRICING POLICY
Prices on www.kineticsbeauty.com are all in EUR, however every local online store working within a particular country can display prices in local currency. Although we try to always keep our prices updated we cannot guarantee that the prices displayed at the time you submit your order are the correct prices applicable to the products at that time. If we receive an order from you indicating different price than that on the website at that time, we will contact you and offer a chance to cancel your order. If we fail to contact you on short notice, your order will automatically be treated as cancelled and you will receive a full refund of any payments made with regard to the particular order.
All prices are subject to VAT tax or other sales taxes where applicable. Depending on delivery destination your order may be subject to additional shipping charges which will be clearly indicated before you have to submit they payment and included in the total order cost.
Customers from outside the European Union (such as United Kingdom) are responsible for any import duties or tax due on delivery. KINETICS is not required to inform you about any such duties or taxes at any time before or after you have placed an order on www.kineticsbeauty.com
9. PROMO CODES
KINETICS carries out a variety of marketing activities in which it is periodically possible for customers to use different PROMO codes to purchase KINETICS products on terms that are more favorable.
PROMO codes are unique combination of letters and / or numbers with which you can purchase goods at a certain discount in kineticsbeauty.com. PROMO codes may have different conditions, an assortment of goods, a term of validity etc. In some case, the PROMO code may not apply if the minimums order amount is not reached.
The PROMO code can be obtained by any kineticsbeauty.com user who is aware of the terms of discount on both – kineticsbeauty.com and through various other channels such as social networks, e-mails, influencer accounts etc.
To use the PROMO code, enter it in the field below when you are checking out your order: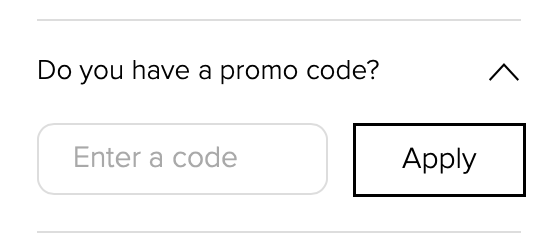 If your entered PROMO code doesn't work, please contact us using our contact information showed on paragraph 3.
10. DELIVERY POLICY
All our deliveries are handled with proven track record of reliability and speed.
Shipping is FREE IN EUROPE FOR ALL ORDERS OVER 50 EUR, except - Latvia and Germany where shipping is free for all order over 30 EUR;
For orders less than 50 EUR in Europe and less than 30 EUR in Latvia and Germany, shipping fee depends on Your country and order weight. You will find info about fees at HELP section.
Delivery time is between 1-8 business day, depends on Your country.
We normally dispatch all orders within one working day.
During really busy periods like sales, we may take up to 10-15 days for some orders due to the high volumes.
There can be additional duties and taxes applied upon receipt of your shipment. These duties and taxes are to be paid by the recipient. KINETICS is not required to inform customers of such additional costs and is not required to refund such costs to customer.
*WE CURRENTLY SHIP TO: Latvia, Lithuania, Estonia, Germany, United Kingdom, Finland, Sweden, Denmark, France, Ireland, Netherlands, Austria, Poland, Belgium, Bulgaria, Czechia, Greece, Portugal, Luxembourg, Hungary, Slovakia, Slovenia, Romania, Croatia.
11. RETURNS POLICY
Returns of ordered and delivered orders are handled on a case by case basis following simple procedures.
Returns should be made within 14 days after delivery of your shipment. The product should have to be in intact and unopened. Kinetics covers return shipping cost.
We will usually refund your order within 3 days of receiving return goods in our warehouse but please note, that it might take longer for refund to appear in your account as transfers between payment systems might take a longer time.
If returning an item that qualified you for a bonus gift, please include the bonus gift with your return. The gift product should be in intact and unopened. If you choose to keep the bonus gift, it's value will be retracted from your refund.
Please send returned items, including your order confirmation, to:
ONLINE RETURNS
Kinetics Nail Systems, SIA.
Kurzemes prospekts 3K,
Rīga, LV-1067
Latvija
If you received damaged products, please contact us by e-mail: [email protected]
12. USER RESPONSIBILITIES
In the access or use of the Site, you shall comply with these Terms and Conditions and the special warnings or instructions for access or use posted on the Site. You shall act always in accordance with the law, custom and in good faith. You may not make any change or alteration to the Site or any Content or services that may appear on this Site and may not impair in any way the integrity or operation of the Site. Without limiting the generality of any other provision of these Terms and Conditions, if you default negligently or wilfully in any of the obligations set forth in these Terms and Conditions, you shall be liable for all the losses and damages that this may cause to KINETICS, our affiliates, partners or licensors.
13. THIRD PARTY LINKS
We are not responsible for the content of any other websites linked to or from the Site. Links appearing on the Site are for convenience only and are not an endorsement by us, our affiliates or our partners of the referenced content, product, service, or supplier. Your linking to or from any off-website pages or other websites is at your own risk. We are in no way responsible for examining or evaluating, and we do not warrant the offerings of, any other websites linked to or from the Site, nor do we assume any responsibility or liability for the actions, content, products, or services of such pages and websites, including, without limitation, their privacy policies and terms and conditions. You should carefully review the terms and conditions and privacy policies of other websites that you visit.
14. LIMITATION OF LIABILITY
You agree that, fully according to applicable law, KINETICS will not be responsible or liable (whether in agreement, negligence or otherwise), under any circumstances, for any interruption or error occurring from your use of the Site.
You agree that, fully according to applicable law, KINETICS will not be responsible or liable (whether in agreement, tort (including negligence) or otherwise), under any circumstances, for any (a) interruption of business; (b) access delays or access interruptions to the Site; (c) data non-delivery, misdelivery, corruption, destruction or other modification; (d) loss or damages of any sort incurred as a result of dealings with or the presence of off-website links on the site; (e) computer viruses, system failures or malfunctions which may occur in connection with your use of the site, including during hyperlink to or from third party websites (f) any inaccuracies or omissions in content or (g) events beyond our reasonable control.
KINETICS will not be liable for any indirect, special, incidental, or consequential damages of any kind (including lost profits) related to the Site or your use thereof (or inability to use the site) regardless of the form of action whether in agreement, tort (including negligence) or otherwise, even if we have been advised of the possibility of such damages.
15. COPYRIGHT COMPLAINTS
Kinetics Nail Systems SIA All Rights Reserved.
All contents of this Site, correspondence (email or postal) as well as marketing materials used to promote the site on third party resources are property of KINETICS. Reproduction or republishing of any part or all of contents is prohibited except for the following purposes:
License to copy for private use:
You are free to make copies or print parts of contents for reasonable personal use.
License to copy or republish for limited use:
You are free to make copies of the material in print as well as digital for third party to use, only if you identify KINETICS Site as the source of the contents and materials adding a top level URL (http://www.kineticsbeauty.com) to any of these copies which are republished. Also, you have to inform any third party that you share these copies with, that in the event of republishing any such copies the source for all the materials should be indicated as KINETICS Site, with a top-level URL (http://www.kineticsbeauty.com).
16. INDEMNIFICATION
You agree to indemnify, defend and protect us from any harm, losses, damages or costs as well as attorney fees resulting from any third party claim, action or demand resulting from your breach of these terms and conditions, any errors in any of your representations or warranties or your use of this site.
17. DISPUTES
With respect to any dispute regarding the Site, all rights and obligations and all actions contemplated by these Terms and Conditions shall be governed by the laws of the Republic of Latvia, as if the Terms and Conditions were an agreement wholly entered into and wholly performed within Latvia.
The agreeing parties acknowledge here that they will try to settle any disputes relating in any way to your visit to the Site or arising from execution, interpretation or termination of this Distance agreement through mutual negotiations.
If parties are unable to settle the arising disputes through peaceful mutual negotiations, all disputes, disagreements or claims shall be settled by the courts of the Republic of Latvia, except that, to the extent you have in any manner violated or threatened to violate our intellectual property rights or the intellectual property rights of our affiliates, partners or licensors, we may seek injunctive or other appropriate relief in any court and you consent to the exclusive jurisdiction and venue in any such court.
The parties have agreed on the venue and procedure for dispute resolution according to the provisions of Regulation No. 953/2008 of the European Parliament on the law applicable to contractual obligations (Rome I).
Should there arise a dispute between KINETICS and the consumer as to whether the provisions of the agreement made between them are unfair, either party may turn to the court referred to in this Section, and the consumer is also entitled to turn to the local Customer Rights Protection authority.
Should there arise a dispute between KINETICS and the consumer as to the protection of data of natural persons, either party may turn to the court referred to in this Section, and the consumer is also entitled to turn to the local data protection supervisory authority.
18. GENERAL
You agree that these Terms and Conditions represent the complete and up to date agreement between You and KINETICS, regarding your use of this Site and any of its contents.
KINETICS has the right to edit and update these terms at any time posting these changes on the Site and indicating any such change by posting a date of the latest update. Any changes applied to Terms and Conditions are effective immediately as they are posted. You agree that by continuing to use the site after any such changes have been applied constitutes your agreement to all changes. KINETICS reserves the right to terminate or withdraw any rights granted by these terms and conditions. You are required to comply with any such withdrawal or change immediately as applicable, including, if required, ceasing all use of this site.
No part of these terms should be interpreted as creating any kind of partnership or other form of joint venture between you and KINETICS. An occasion where KINETICS fails to enforce your performance according to these terms and conditions shall not affect our full right to require such performance at any time before or after. In the event where any provision of these terms and conditions shall be unenforceable or invalid under any applicable law or is ruled to be unenforceable by any applicable arbitrary institution or court decision, such unenforceability or invalidity shall not render these terms and conditions invalid or inapplicable as a whole. In turn these terms and conditions shall be modified, to the extent possible, according to any applicable law in a way to fully reflect the original intent of the parties as was intended in original terms and conditions.
19. FORCE MAJEURE
KINETICS shall not be held responsible for any delays, failures to fulfil obligation or any other failures that occurred due to circumstances and obstacles that are beyond our reasonable control, which include but are not limited to strikes, governmental actions, wars or national emergencies, terrorism threats or acts of terrorism, environmental or climatic anomalies, failure of performance by a third party, internet connection issues as well as hardware and software malfunction. In the event that any such force majeure occurs we will try to eliminate the delays in the shortest time possible.
THIS PRODUCT IS FOR PROFESSIONALS ONLY
What is Pro product?
The Pro product is intended for use in salons or trained personnel.
Who can buy Pro product?
The Pro product can be purchased by any industry professional who has an appropriate education document or certificate.
How to became a Pro?
To register as a Pro user, all you have to do is upload your certificate or diploma as proof.