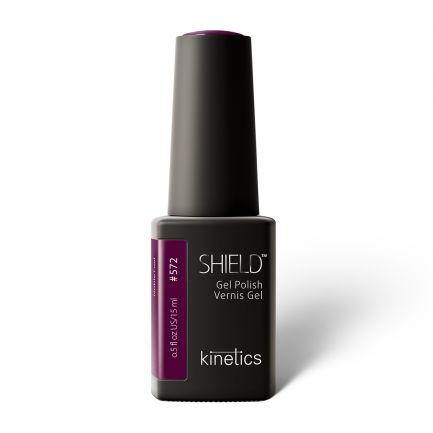 #572 NOBLE FEEL
DESCRIPTION
Dark purple
It's a color that radiates magical energy and femininity. Royal and inspiring dark purple will give you that noble feeling you asked for a long time ago. Like a fine wine, it relaxes you and shows you the variety of the many tones and levels of this magnificent color. Find some time to appreciate yourself.
INSPIRATION
Fine wine
Dark lilac
Velvet
SHIELD PROFESSIONAL GEL POLISH 0.5 fl oz/15 ml
Shield gel polish is a classic 3-step highly pigmented professional formula with a wide color range. It cures in both UV and LED lamps. All Shield colors are available also in SolarGel Professional Nail Polish formula. SHIELD gel polish is made in HEMA-free formula.
HEMA is a monomer that can generate unwanted skin reactions, like itching, peeling and redness. We improved the formula, by replacing this ingredient with a different one, that has a larger molecule size and can not penetrate the skin, so can provide a safer manicure. With SHIELD Gel polish offer your customers a safer manicure, with decreased risk of unwanted skin reactions