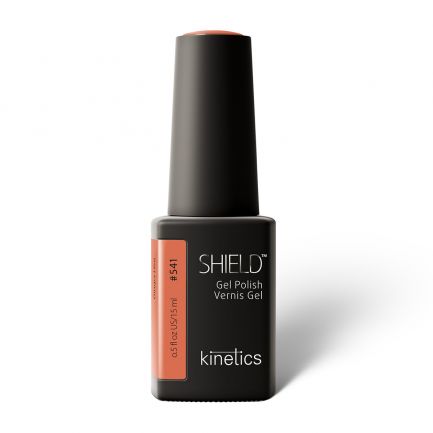 #541 GINGER HINT
DESCRIPTION
Ginger biscuits This spicy red-brown shade that reminds us of ginger biscuits with a slight pinch of cinnamon represents the character of this collection. The sandy reddish color of rust tells us about warm autumn evenings and sunlight that reflects through maple leaves.
INSPIRATION
Ginger biscuits
Maple leaves
Antelope Canyon
SHIELD PROFESSIONAL GEL POLISH 0.5 fl oz/15 ml
Shield gel polish is a classic 3-step highly pigmented professional formula with a wide color range. It cures in both UV and LED lamps. All Shield colors are available also in SolarGel Professional Nail Polish formula. SHIELD gel polish is made in HEMA-free formula.
HEMA is a monomer that can generate unwanted skin reactions, like itching, peeling and redness. We improved the formula, by replacing this ingredient with a different one, that has larger molecule size and can not penetrate the skin, so can provide a safer manicure. With SHIELD Gel polish offer your customers a safer manicure, with decreased risk of unwanted skin reactions