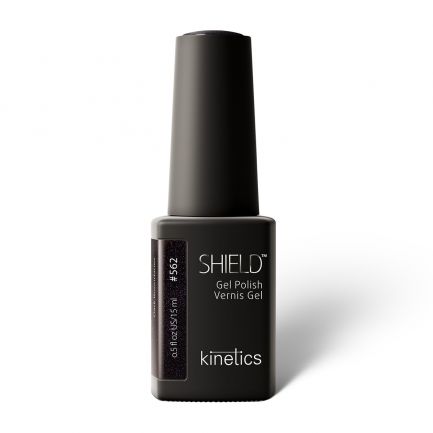 #562 DARK BOUNDARIES
DESCRIPTION
Dark violet.
Dark boundaries have crossed the line between elegant chic and the mysterious unknown that will take you to another world of experiences. This dark violet shade is mixed with sparkling dust to express the festivity of the season.
INSPIRATION
Fireworks
Dark velvet
Gemstones
SHIELD PROFESSIONAL GEL POLISH 0.5 fl oz/15 ml
Shield gel polish is a classic 3-step highly pigmented professional formula with a wide color range. It cures in both UV and LED lamps. All Shield colors are available also in SolarGel Professional Nail Polish formula. SHIELD gel polish is made in HEMA-free formula.
HEMA is a monomer that can generate unwanted skin reactions, like itching, peeling and redness. We improved the formula, by replacing this ingredient with a different one, that has larger molecule size and can not penetrate the skin, so can provide a safer manicure. With SHIELD Gel polish offer your customers a safer manicure, with decreased risk of unwanted skin reactions
Featured On Collection:
SPY ME