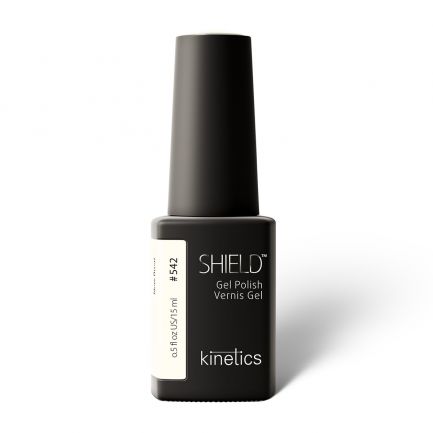 #542 NEW BREATH
DESCRIPTION
Warm white An addition to our range of white shades, this color soothes with a little yellow hint. The delicate and pure shade is our dedication to beginnings – a new breath to make this reasonable. This is a story about our well-being and our restart, associated with cleanliness, simplicity, and perfection.
INSPIRATION
White dove
Greek villa walls
Linen
SHIELD PROFESSIONAL GEL POLISH 0.5 fl oz/15 ml
Shield gel polish is a classic 3-step highly pigmented professional formula with a wide color range. It cures in both UV and LED lamps. All Shield colors are available also in SolarGel Professional Nail Polish formula. SHIELD gel polish is made in HEMA-free formula.
HEMA is a monomer that can generate unwanted skin reactions, like itching, peeling and redness. We improved the formula, by replacing this ingredient with a different one, that has larger molecule size and can not penetrate the skin, so can provide a safer manicure. With SHIELD Gel polish offer your customers a safer manicure, with decreased risk of unwanted skin reactions